Reviews

Good
Bad

Why I Wrote
The Book
Excerpts
Table Of
Contents
Auschwitz
SS St. Louis
Timeline
A Survivor
Speaks Out
Carter Center
Speech
Justice At
Nuremberg
Purchase
Related Links
ConfederATE Charleston -


aN iLLUSTRATED hISTORY oF tHE cITY aND tHE pEOPLE dURING tHE cIVIL wAR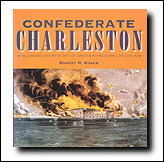 From secession to siege to surrender, Confederate Charleston recounts the dramatic history of the city that witnessed some of the Civil War's most noteworthy events. Robert Rosen's lavishly illustrated chronicle presents a multi-faceted view of the city where the first shots were fired and of the diverse population, both military and civilian, that flowed through Charleston before, during, and after the Civil War.

Known as the birthplace of the Confederacy, Charleston hosted the tumultuous Democratic Party National Convention of April 1860 as well as the secession convention that met later that year. In addition to serving as the testing ground for brutal warfare tactics, the port saw the commencement of hostilities, the battle for Battery Wagner and Morris Island, and the longest siege of the war. Rosen devotes entire chapters to these episodes and incorporates commentaries gleaned from diaries, letters, and newspapers.

Featuring more than 150 drawings, photographs, and paintings—many of which have never before been published—Confederate Charleston includes biographical sketches of important Civil War personalities: P.G.T. Beauregard, the revered Confederate general; Robert Barnwell Rhett, the "Father of Secession"; Angelina Grimké, an outspoken Charleston abolitionist; and Robert Smalls, the Civil War's first African-American hero. In addition to profiling the famous, the volume enumerates the wartime contributions of women, Jews, African Americans, Irish Americans, and other groups.
---
Reviews
"Rosen's engaging book provides a needed and profitable introduction to Charleston in the Civil War, complete with a helpful bibliography for additional reading hints. It is a book which ought to remain a staple on bookstore shelves for visitors and residents alike for many years to come."—The State
"If science could somehow reconstitute all the paper that hs gone into books about the Civil War to its natural state, we could probably re-foliate the Amazon. Many of those books are scholarly tomes that have a wealth of knowledge, but which read like the instruction manual for a particularly dull piece of machinery. But occasionally, a book comes along that paints history in vivid hues, capturing the essence of the subject mattter in a way that makes it not just interesting, but down right compelling. Robert Rosen's new book, which profiles one of the most famous cities in the South, nation, and world, is one of those. It is reader friendly to the utmost degree, and will provide many fascinating hours of insight into who we were, and how a great tragedy can come to pass though everyone involved carries the courage of their conviction and thinks God is on their side. To understand who we are, we must understand who we were. Rosen's book is a good first step towards that goal, an entertaining look at Charleston's past that informs and educates."—Southern Book Trade
"Here is an objective, fact-filled history of Charleston's role in secession, the first shots of the war and the dramatic concluding events of Sherman's march through the city. More than just a history text, this book is illustrated with prints and photographs from the period depicting the politicians and the military leaders involved inthose turbulent years."—Sandlapper Magazine